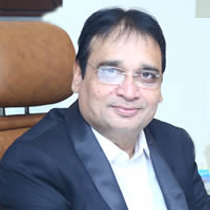 Mr. Prashant Desai
Founder of Daxal
MD's Message
Welcome to the website of DAXAL COSMETICS PVT. LTD. And thank you for your interest. This site will give you an excellent insight about our company and its capabilities.
Only a click away, you will find a lot of useful information about the different products and services that we provide.
I take this opportunity to thank our valued customers, whose continued patronage and confidence in our products inspires us to extend the best of services and enables us to provide value for their money. Being dedicated to private label and own brand to other countries , we are focused at addressing the needs of our customers through rugged, efficient, reliable and economic analysis and provide solutions and products, in line with the world's best, while maintaining continuous interaction with customer to assess their emerging requirement, so as to be ready when the needs arise.
We are committed to total customer satisfaction by identifying their specific needs, translating them into quality products and providing dependable after-sales-services. This commitment is the corner stone of our quality policy and we strive to achieve it by putting into place a quality system, which adheres to the ISO 9001 quality standard,
The last few years have brought both challenge and change for DAXAL COSMETICS . We adopted a corporate structure that allows us to be a more competitive business and market player. The ongoing economic and social changes have required the focused attention of all our employees to improve performance and position us for success no matter what kind of markets we encounter. We've made excellent progress, but we have more to do. We will continue to take decisive action to strengthen and grow our group in a sustainable way. Today DAXAL COSMETICS are wonderfully reshaped into one cosmetics (private label) manufacturing entity making DAXAL COSMETICS a landmark in its own.